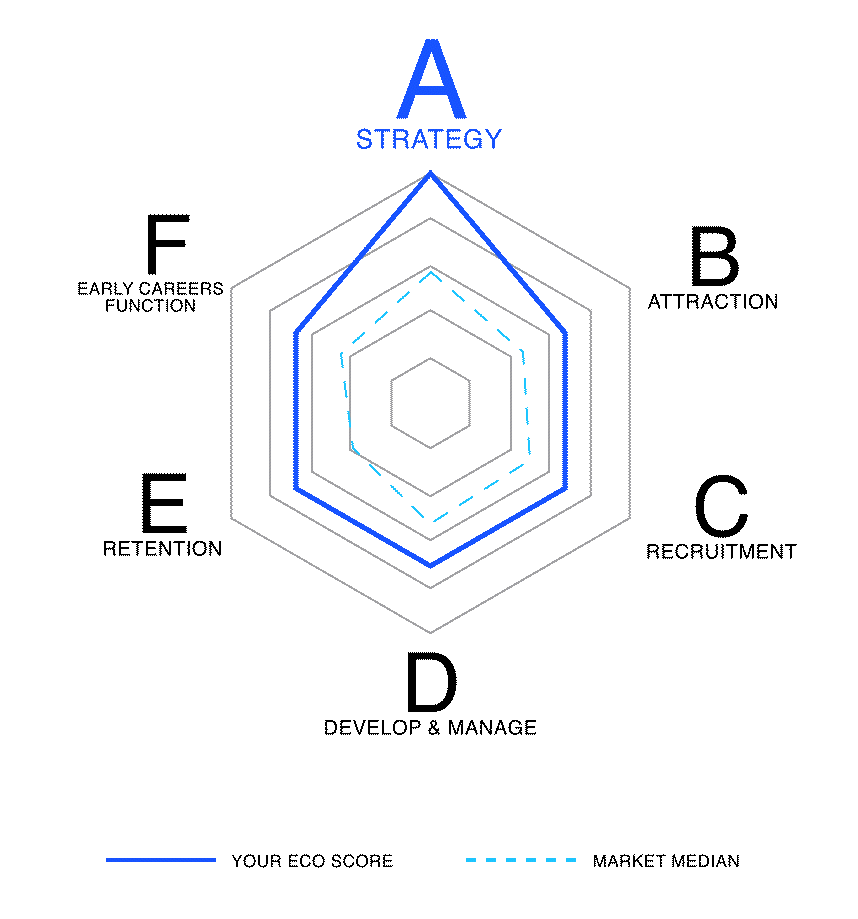 A ROBUST STUDY.
Mixed-method research. Data analytics. Expert industry knowledge. ECO offers transformational insight into your Early Careers Function along six proprietary performance vectors.
ECO generates your unique profile, diving deep into your performance along each vector. Your profile benchmarks your performance against the market median and across your own business areas.
YOUR ECO JOURNEY
With the help of your dedicated Client Services Manager, we use mixed-method research, data analytics, and expert industry knowledge over a 12 to 18 week period to understand your current state, and work with you to define your future state:
01)

Initiation Workshop
Project plan, align on participants, assess metrics, and agree timelines
02)

Execute Research
Mixed methods approach combining rigorous quantitative and human-centred qualitative research

03)

Analyse & Report
Detailed analysis of quantitative and qualitative data; interpretation and insights including key findings
04)

Strategic Focus Workshop
Receive your bespoke ECO Profile, including recommendations and strategic action planning

YOUR ECO PROFILE
The result of your ECO journey is a bespoke ECO Profile created from thousands of data points, measured against our proprietary six performance vectors of early careers.
Typically around 30-60 pages long, your ECO report provides a detailed analysis of quantitative and qualitative data, clear interpretation and insights into key findings, and an Executive Summary with actionable next steps to start optimising your function right away.


"ECO is helping us to
deepen our focus

on Early Careers at J&J by allowing us to

challenge

if what we're doing is best-in-class,

validating

our place in the market, telling us where we stand, and helping us discover

where to go next

"

Damon Albano, Global Head of Early in Career - TA, J&J
READ THE CASE STUDY

"ECO has provided my TA team with a
much stronger voice

to the business. It's chock full of data, insights and external benchmarking that our stakeholders need, and now we're able to deliver that to them."

Dan Black, Global Talent Attraction and Acquisition Leader, EY
READ THE CASE STUDY

"

Getting an

insight

as to

where

we stand

,

compared

to mature and established Early Careers Functions has helped us

guide

our activity

at an

important

time in our growth

"
Nicola Lamplough, Head of Early Careers, Experian
READ THE CASE STUDY
INTERESTED?
TALK TO A MEMBER OF OUR ECO TEAM:
Discover how ECO can help your organisation: